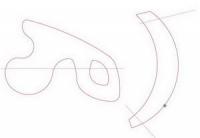 Original text by Marina Belova 
It sometimes seems so strange to me when I hear questions the answers to which lie on the very surface. But then I realize that some newcomers might not be familiar it. 
For instance, it always surprised me that every machine embroidery course teaches you to draw from scratch, explaining what exactly do you draw and how. Not everybody learns how to use graphics editing software before embarking upon creation of the machine embroidery designs. 
So I won't discuss in a great detail precisely how and in what way the objects are created because it depends on the embroidery editor. Today I'll simply tell you what objects a user can draw. There only two types of such objects: 
1. A line. A line can be open or closed. 

The basic types of stitches that can be applied to the line: 
Running stitch 
Satin column 
Cross stitch 
E-stitch 
Motif stitch (macros) 
An area. An area is usually a closed object of a varying shape. Why usually? Because some editors permit filling the areas within the open outlines. 

The basic types of stitches that can be applied to the area: 
Satin 
Fill 
Contour fill 
Spiral fill 
Radial fill 
Applique 
Cross fill 
To know more about stitch types, click here. 
What stitch type to choose for any object in particular, depends on its size, shape, outlines, its intended purposes, the desired decorative effect, and, of course, a digitizer's experience. All of this should be taken into account before digitizing has even started. 
1