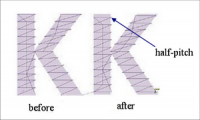 Original text by Marina Belova 
Following my previous article called Quality benchmarks. Secrets of pull compensation, I'll remind you that in machine embroidery there exists a kind distortion called push. It means that the object stretches in the stitch direction. Thread thickness and density value are what causes shapes to distort. 

There is a lot of reservation surrounding the whole concept. I suggest that we make it clear once and for all. 
Push compensation is a deliberate distortion of the object shape in an embroidery design while digitizing. It serves to avoid various embroidery defects, for example, shape distortion (circles becoming ovals and squares turning rectangular). 
Push compensation (Half-pitch compensation) 
There are 2 ways of adding compensation to the object: 
manually change its shape by removing several stitches from the ends of the object 
adjust the respective parameter in the embroidery software 
I'll better tell straight off that the possibility of regulating the compensation automatically is not present in every embroidery editor. And if it is there, the following methods of adjusting the automatic compensation are suggested: 
remove the required amount of stitches from the ends of the object 
or shorten it by a certain amount of millimeters 
Tajima DGML by Pulse can automatically control the push comp properties, but for satin stitches only. At least, in v.12 of the mentioned software.

Perhaps, the newer versions have a greater range of possibilities. 
Also, Compucon works with this type of compensation. But you can only control compensation for fills in it. 
As for WingsXP, it suggests moving the stitches aside from the open edges by the thread thickness value divided by half. A parameter called Half-pitch compensation exists specifically for that purpose. It only has two modes: Yes and No. 

And the best bit comes at last. The question that everybody is interested the most: what are the benchmark push compensation values? 
These are the push compensation values that I've encountered: 
for satin letters more than 1.5 cm high — remove 1-2 stitch from the open edges 

for fills — remove 2—4 rows of stitches 
for open edges — remove the more stitches out of them, the higher is the density value 
thicker threads need more push compensation than thinner ones 
I'll repeat once again, that the aforementioned values are nominal and can only be used as a starting point for digitizing a new design. Compensation is not a science, therefore, you cannot tell which value is the most optimal.