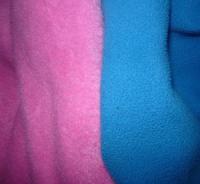 Original text by Marina Belova 
Fleece is considered a dense pile knitwear fabric, and that makes a certain impact on digitizing and embroidery processes. Fleece differs in density, quality and pile height. But, in any case, it's very stretchy. On that basis, you need to have individual settings in every particular case.

Nevertheless, there are some general recommendations on digitizing and embroidery. 
The embroidery process is the most ordinary one: 
If you want to avoid any unforeseen defects, hoop the fabric together with the stabilizer. To prevent fabric from shifting during the embroidery, you can additionally sprinkle the stabilizer with temporary spray adhesive. I've seen the whole series of recommendations on stabilizers: 
For the items in which the wrong side is visible, use a water-soluble film or 2–3 layers of tear-away stabilizer. 
Otherwise, a cut-away stabilizer is the optimal choice. Not only will it secure the fabric in the course of embroidery, but also won't allow it to lose its shape during washing or cleaning. 
Of all the hoops that suit the size of the embroidery, use the smallest one. Keep an eye on the fabric during the hooping so that it doesn't sag down. It is very easy to do: slide 2 of your fingers over the fabric surface. If there is a hump, the fabric is too loose, so you need to rehoop. But don't stretch the fabric too tight or the embroidery will become distorted after unhooping. You should pull fleece only in the direction in which it is the least stretchy in order not to damage the structure. 
As any pile fabric, fleece is notorious for hoop marks. In order to prevent their appearance, it is advisable to put a piece of paper between the fabric and the hoop. 
In essence, you need practice for everything. 
If the pile is high, you may cover it with a thin water-soluble film that will help to trample the pile and to avoid stitches sinking into it. 
Set the appropriate needles: 70/10 or 75/11 with a ball point. 
Use the ordinary #40 embroidery threads. For small details, #50 or 60 can be used. 
The embroidery speed should be standard. 
Adjust your thread tension so that the upper thread doesn't form loops. 
General recommendations on digitizing for fleece, which will define the quality of the future embroidery: 
The design should be either created by you or, in case you have a ready one, modified according to fleece particularities. You should pay attention to the following aspects: 
Under the satins, an outline along the perimeter, made with short stitches (2–2.5 mm), low-dense zigzags or double zigzags (3 mm) and up to 3.5 mm stitch length. That depends on the satin width and pile height. 
Under the filled areas, a Tatami fill of a very low density – a 2–4 mm dense full grid. This will help to stabilize the fabric and reduce the density of the outer layer of stitches. 
For such a stretchy material, it's better to set your density at a slightly lower value than for the ordinary fabrics. 
You need to increase pull compensation so that it comprises 10% of the column width, especially if a satin column is narrow. 
Avoid less than 1 mm wide satins. 
All the small elements that will be embroidered with running stitches, should be repeated 3 times. For this purpose, bean stitches, and not the triple running stitches, should be used. I wrote about it in my article on decorative running stitches. 
Substitute as much running stitches for satins as possible. 
Avoid stitch direction that is parallel to the grain line. It is usually vertical on items. 
Borders should be approximately 3 mm wide. 
Try to plan your embroidery sequence in such a way so that overlapping of the segments of one object is kept to a minimum, to prevent the appearance of gaps. 
And one last thing, plan your embroidery sequence from the center of the hoop toward its edge. 
In theory, many machine embroidery editors have preset parameters that can be used as a starting board. But in machine embroidery, one should never take anything for granted. Every little thing needs to be tested and retested. 
See how I used fleece to create a bag for paper tissues and a heart for sweets (both step-by-step master-classes with photos). 
1