Imitation of wool and bird's feathers of Tajima DGML by Pulse
---
And here I look at it and I am surprised, why in general it was necessary to create such effect, after all to make it by hands is simple, and the main thing operating properties of each object it is possible manually, without purchase of any expansions. But who writes about it when sells plug-ins to editors? Unambiguously, money was spent in vain
Now I will pass to the professional editor of embroidery of Tajima DGML by Pulse who has similar effect of imitation of wool in the arsenal. Information of opportunities of this editor of the last version is kindly provided to me by Denis from Camart.
At creation of effect of Fur in Tajima it is possible to operate all usual parameters of contours, and not just density, shortening, type of filling and gradation of roughness of edges. Here is possible all: and frameworks to put and choose edge type (zigzag, square, chiseled, etc.), and to adjust gradient density and much that else. In Tajima, in general, there is a mass of settings with which it is possible to be played: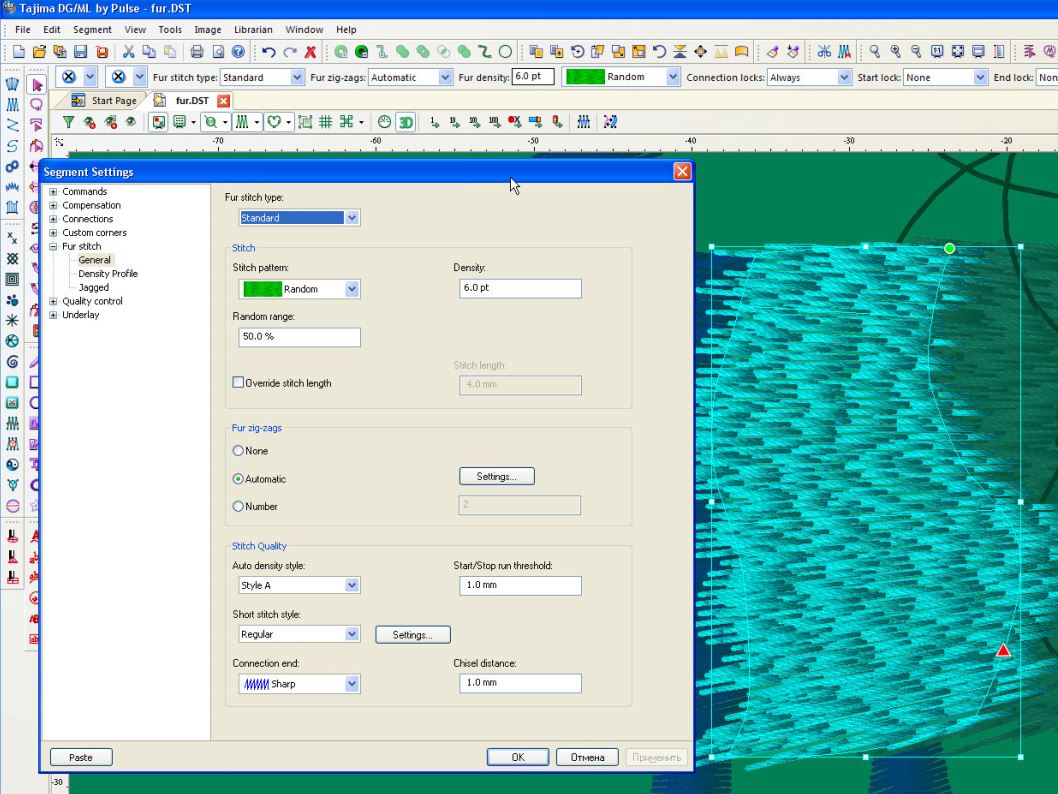 But most of all I was struck not by these important in work, but already habitual, and that it is possible to operate by what way the woolen effect will be created. For this purpose developers thought up here such control which stacks stitches not as in usual sateen, but made on other trajectory in sateen: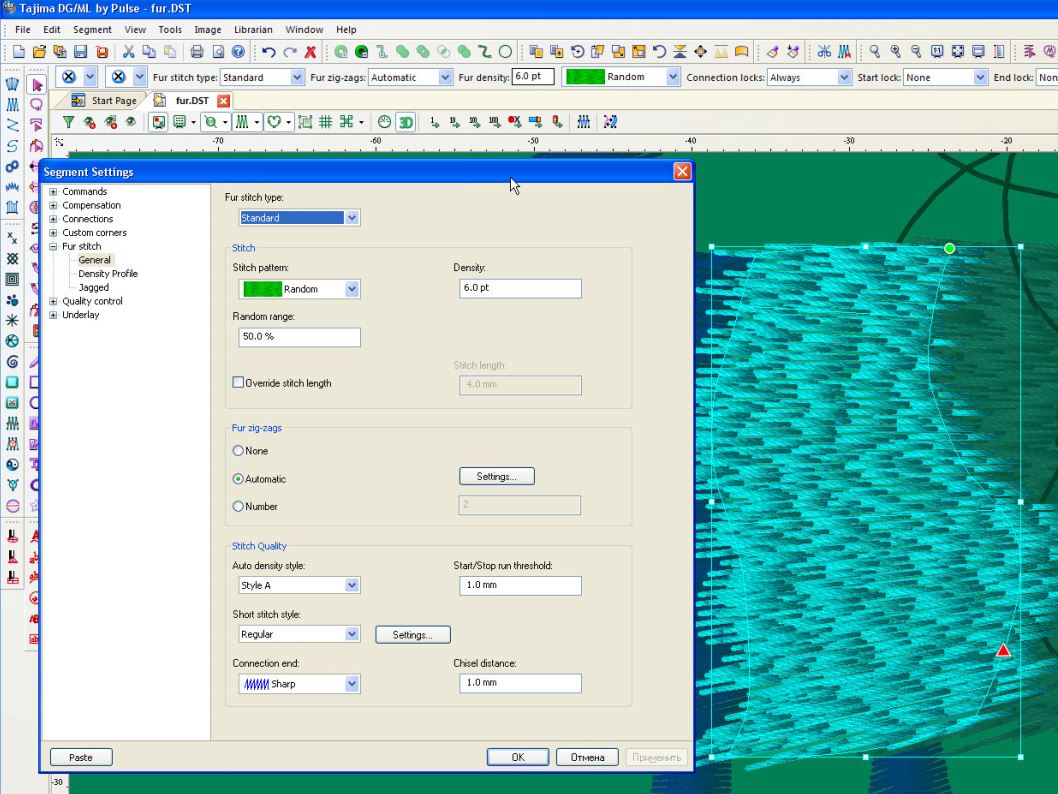 At "None" choice - usual sateen with fragmentary edge, same, as well as in Stitch Era will be embroidered: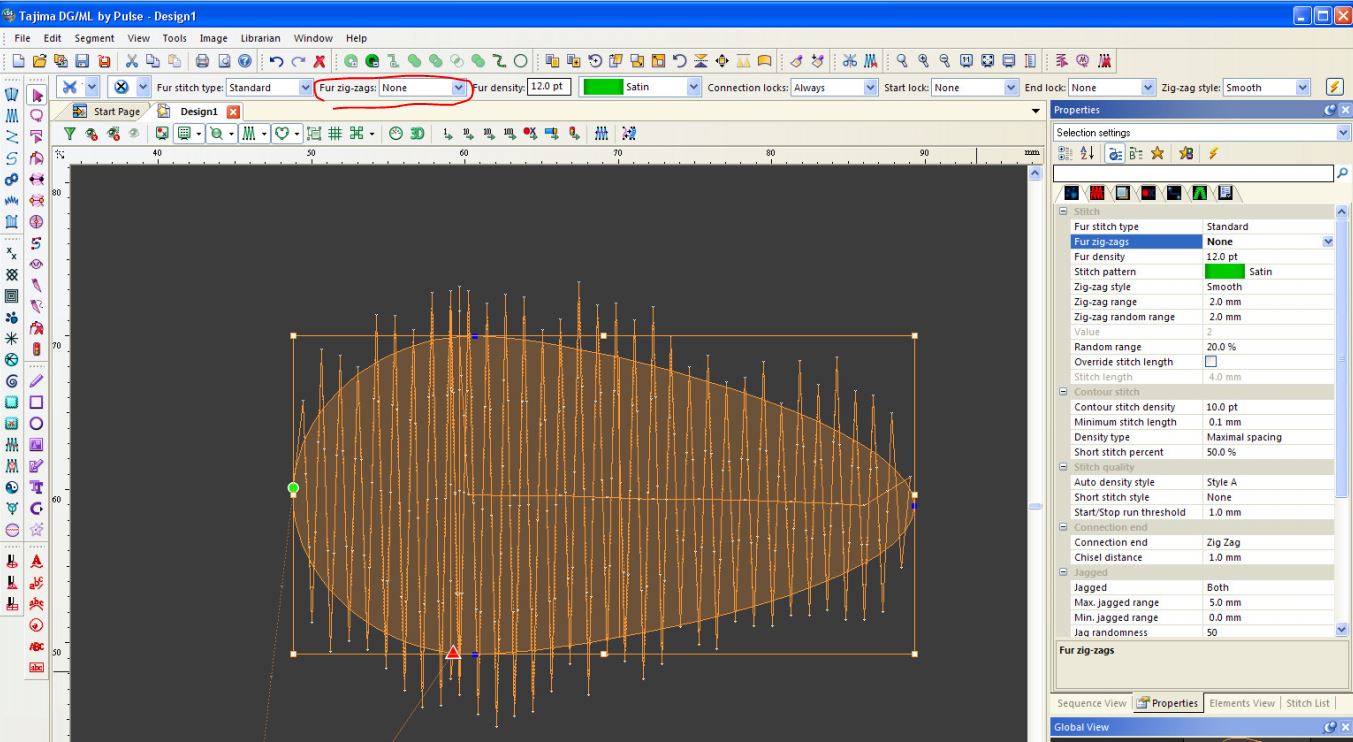 At a choice of "Automatic" such step design will turn out here: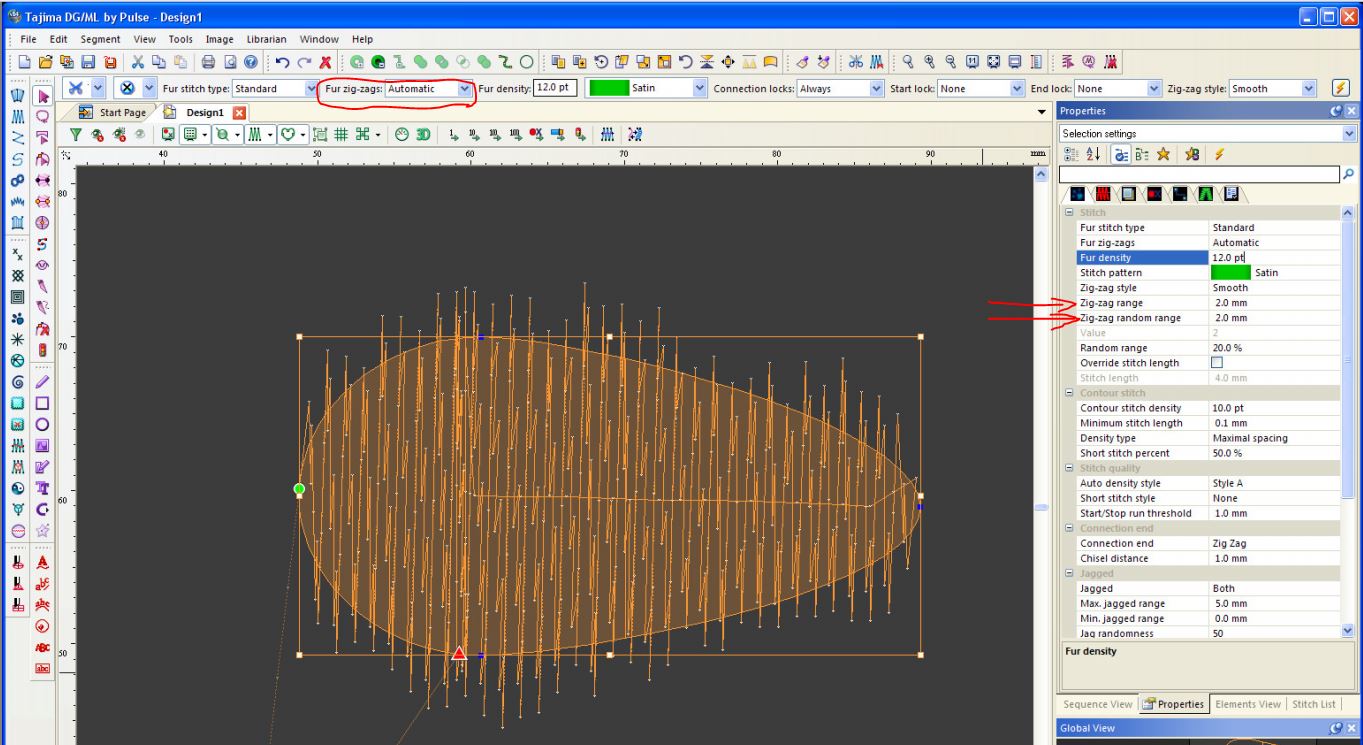 Thus each stitch of sateen becomes not direct, but broken into very flat zigzags. I even would tell that it is used instead of one stitch of motives very similar to a stem stitch (stem stitch), and the stitch following it remains to straight lines. Thus the user can regulate length of this motive/zigzag (zigzag range) and distance between zigzags (zigzag random range). And the quantity located in length of a contour of zigzags will be counted by already editor.
At "Number" choice the user has an opportunity still, to regulate quantity of zigzags which he wants to receive on each stitch. On the picture below a zigzag only 2-a: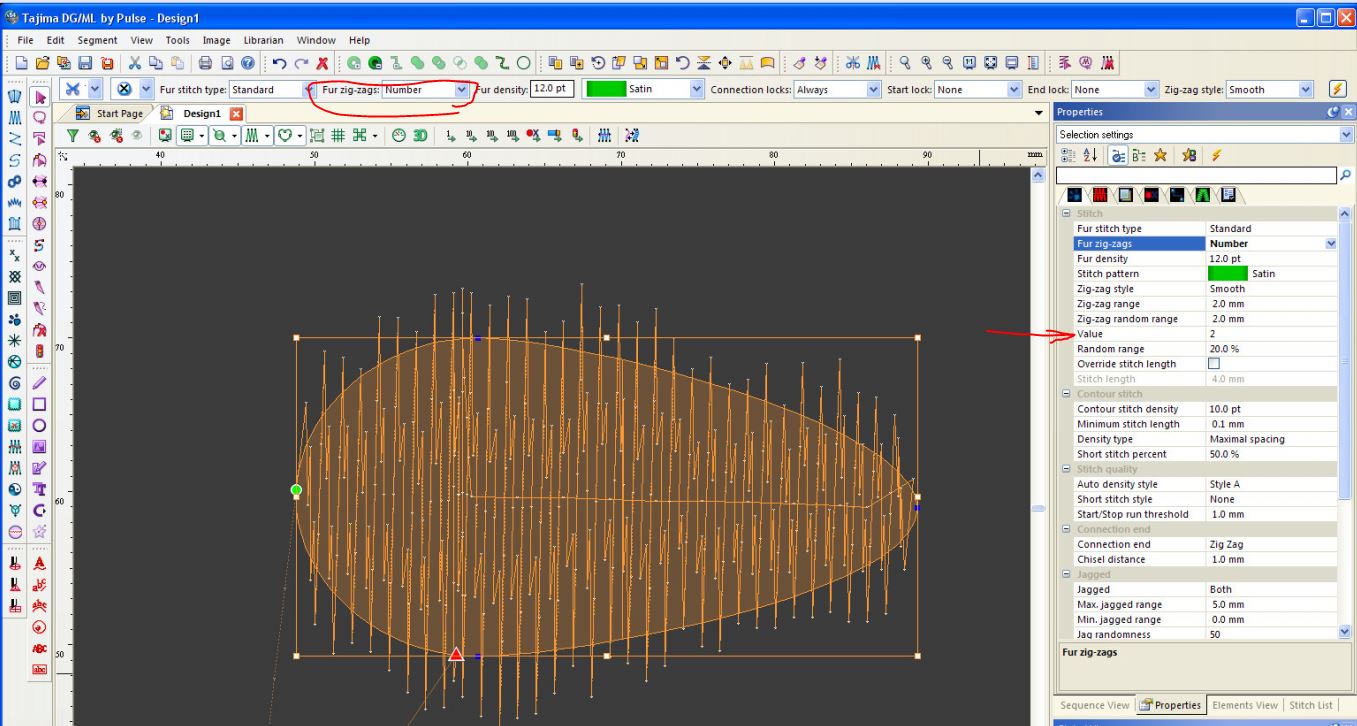 And here them already 4: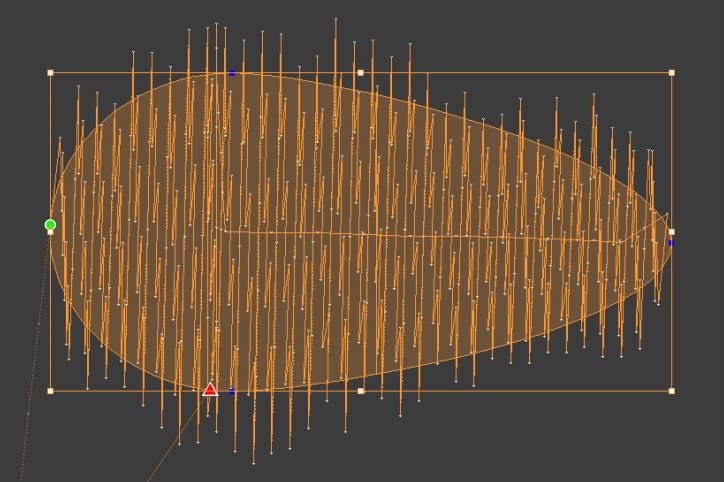 I embroidered contours made by Denis. One photo lower at the left effect of Fur with one zigzag on a stitch, at the left – with four: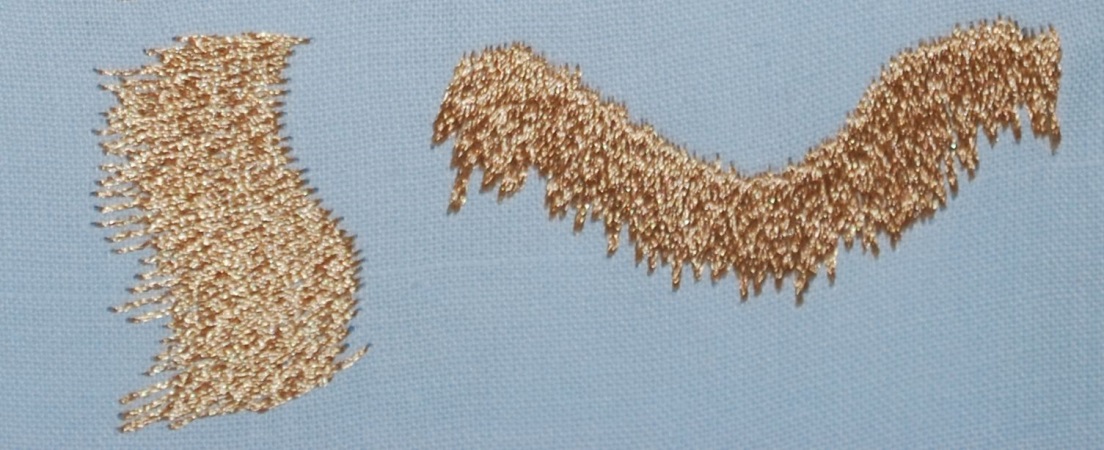 Naturally, they differ from made me in Stitch Era of simple effect of Fur. And the most important, all parameters here can be operated and manipulated easily that personally for me it is very important.
Nevertheless, Tajima gives to the users ample opportunities. At due selection by a trial and error method of density, type and zigzag length, can be excellent imitation of wool will turn out.
And in your editor is though any opportunity automatically to imitate wool?