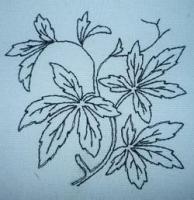 Original text by Marina Belova 
Sole-colored Redwork designs are considered the simplest hand embroidery technique. It used to be made with a red thread on fair-colored — white or creamy — fabrics made of natural fibers (muslin, percale, linen and so on). The designs in only one color were used everywhere in the earlier days: on clothes, bedlinen, and table-cloths, also as room decorations. 
Even now you can see a lot of sole-colored designs in various online shops. Only in those days the designs intended for hand embroidery were rather simple and crude. This is the reason why they used to be the first step in embroidery education. Running stitches, chain stitches, and french knots were used. Below you can see the example of the classic sole-colored design of the 30s from the book called Antique French Textile for Designers by June K. Laval. 


Nowadays not only simple designs, embroidered just with running stitches, but also immensely complex graphic designs that contain other stitch types as well, are common in machine embroidery. For example, this piece embroidered with black threads, won a prize this year from the Stitches magazine: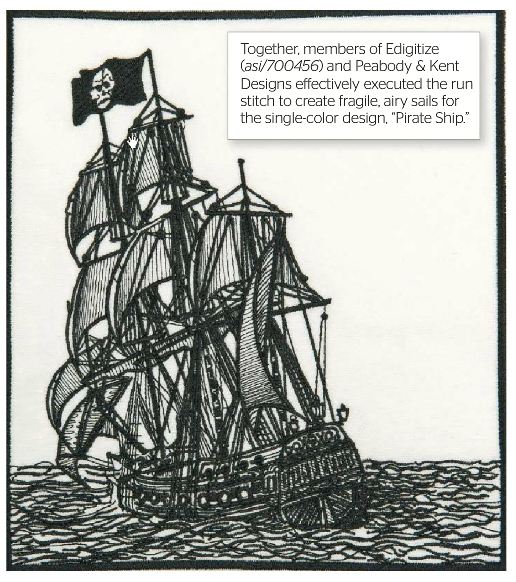 Thence, not all sole-colored designs are dull, for they have something in them that justifies the focused attention. 
The creation process is not at all difficult for this is just everyday embroidery. You simply hoop the fabric and embroider. There can be even simple designs, where a stabilizer is not needed, for they are embroidered with running stitches only. But if a design is big and full of stitches of various types (like the one pictured above), a stabilizer will be necessary. 
Digitizing 
I will only review the simple and most common type of sole-colored designs — the one made with the running stitches. 
Digitizing recommendations are as follows: 
Prior to the embroidery, the image should be simplified as much as possible. Small details should be either removed or combined with the others or upscaled a bit. The lines should be smoothed out. 
The design should be digitized with a double or triple running stitch in accordance with the size of the elements. A single running stitch can be used for very small details. 
I've seen an insistent recommendation to digitize such design with bean stitches. This type of stitches lowers the possibility of looping and misplacing lines on repeats, especially when embroidering on the fabric with polyester batting. 
But in my opinion, a triple running stitch looks rather crude, and if a line fails to follow the steps of the previous one to a tee, it makes the work more lively and artless. And on top of that, when digitizing with a triple running stitch or bean stitch, one should plan the embroidery sequence with the utmost care, which does not help to save time. But, every man to his tastes. 
Stitch length 2—2.5 mm. No less than 1 mm for small designs and details. 
Try no to use the dynamic stitch length in order to follow the trajectory as close as possible. 
The design should be digitized so that it is embroidered all in one go. It's better to avoid trimming. Therefore, it is necessary to carefully plan the embroidery sequence. 
I point out that the process of digitizing this particular embroidery is the same in all editors, professional and amateur alike. 
I picked a simple vintage image from the Briggs' Patent and digitized it with only one color.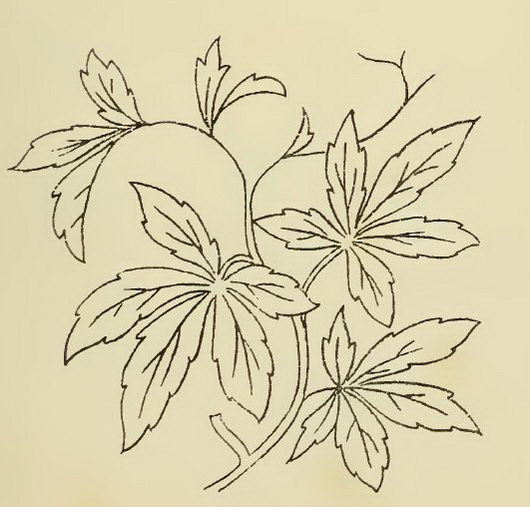 But digitizing took 30 minutes of my time. I created it manually, with the only 1 running stitch, with the stitch length equal to 2.3 mm, without trims — in a "single stroke" technique, that is. Every line was made by two simple running stitches. The stitch count is 1593. The image size is 74.8x72.2 mm. This is how it looks on the screen.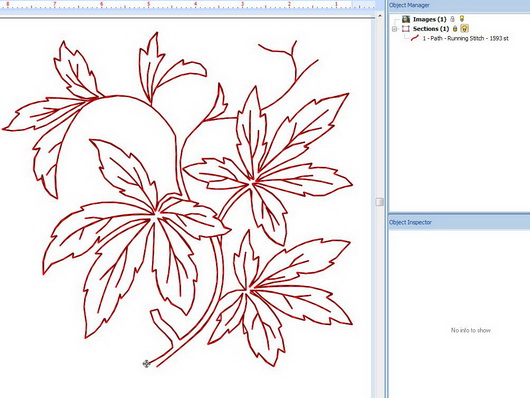 And this is how it looks already embroidered on the blue fabric with black threads, in a large 120x30 frame (which is not at all how it is intended).
That's why the look is so lively and not sterile.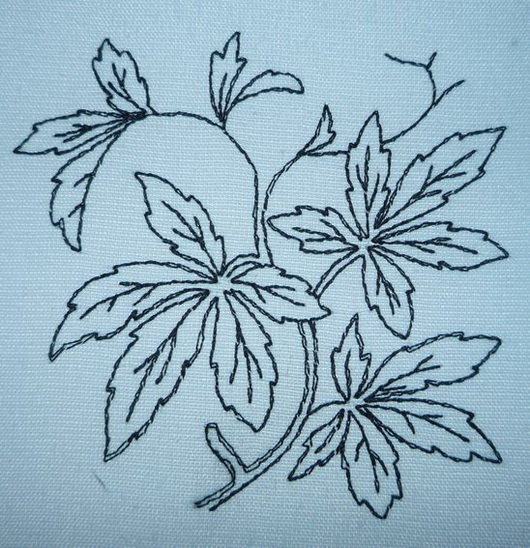 A very quick and economic embroidery technique. 
P.S. The best free manual on how to digitize designs like that was created by Brad Martin, and can be found in Floriani Club on Youtube. In case you are interested, google Floriani Club — Making Lineart from a backdrop. 
Edited by Irina
1