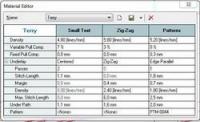 Original text by Marina Belova 
The most interesting aspect of machine embroidery is that one design can look different after being embroidered on different fabrics. And the reason for this are different fabric properties, which have a great influence over the end result. Digitizing and the embroidery process are essential, too. 
All fabric for machine embroidery may be divided into 3 groups; I'll cover their properties in separate articles: 
Each of these groups can be split into subgroups and types. It is generally accepted that woven fabrics are much easier to embroider than knits. In my opinion, it is nothing more than an embroidery myth. Benchmark parameters for all kinds of fabrics have existed for a long time, as well as for the needles and stabilizers and other stuff. When working with this or that kind of fabric they should be used as a starting point. And if you have some experience and power of observation, you can conquer them all. 
You don't even need to go far to obtain this information — nearly any machine embroidery editor has templates with preset values of density, compensation, types of underlay and so on. For example, this is the template for embroidery on terry cloth in Stitch Era: 

Sometimes the embroidery software will even offer you recommendations on the choice of stabilizer like I was in Drawings. 
But I'll repeat just once more: take no instructions for granted but go and try for yourself instead. 
Edited by Irina
2