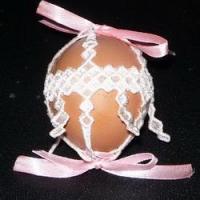 Original text by Marina Belova 
I've been long been using Criswell catalogs as the source of ideas for machine embroidery. Criswell is a rather well-known website, where you can buy ready machine embroidery designs, mostly the FSL ones. Or, if not buy, then, at least, look at them to adopt new techniques. 
So, in these catalogs, there are wonderful holders for Easter eggs and Christmas balls. There is too late now for Christmas balls, perhaps — we'll leave it for the future. But it's about time for Easter. To cut a long story short, I decided to make something similar, not in the FSL technique so as not to spend a lot of time, but something simpler on organza, which is a lot easier in terms of design creation. 
What I got as a result was this egg suspender, which can be used as a present: 

The design is based on simple rules of geometry and is completely unpretentious. At first, I thought that I would need a particular pattern for the holder that involved development drawing of an egg, but then I tried to do without it. After all, the areas between the sections are sufficiently large for the embroidery to mold to the shape of a three-dimensional object. The size, of course, was changed in accordance with the size of my egg. Here is my sketch drawing for the future design: 

I created a design for it: 

The rest was easy — I hooped only the organza and made sure it was drum tight. 

After that, I embroidered the entire design: 

We've how come to the most boring step — trimming the organza along the perimeter of the embroidery. If I was embroidering lace on water soluble stabilizer (as in the original pattern), it would have fallen off of its own accord. But with a little patience I managed to do it: 

Then I cut the holes at the ends of columns so as to insert ribbons in them, singed the organza fibers with a lighter and sewed up the resulting ribbon manually in two places. This, literally, took several stitches. Then I cut away 2 small pieces of ribbon and passed them through the eyelets, top and bottom. I tied the bottom ribbon in a bow. 

After the it has been tied I put an egg into the holder and tie the upper ribbon as well. You can use a bow again and get something like this: 

Or do without bows at all, if you like: You can hang them on a now popular Easter tree, making an ordinary loop out of the upper ribbon. You can additionally decorate your embroidery with beads or other things. The result will look rather interesting. 
As usual, everything is very simple. A number of sections with eyelets may be increased (I have 5, but it is enough for me). But the most important thing that I noticed while choosing the image and creating the design was an understanding that the design should be very simple because of the small embroidery area. 
1