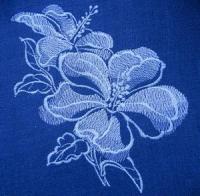 Original text by Marina Belova 
Linen is a perfect natural fabric for embroidery and there is a huge variety of items made out of it due to its special qualities. I consider it one of the most convenient, stable and non-tricky fabrics for machine embroidery. But linen, too, can sometimes lead you to a trap no matter what you do and how you do it. Like any other material, this rather coarse, textured fabric that crumples easily has basic recommendations on how to work with it. 

The embroidery process goes as follows: 
Hoop linen together with a stabilizer. This should be of a tear-away middleweight variety. Additionally, you can use a temporary spray adhesive. 
#70/10 (#40 for standard threads) needle with sharp point type. 
Any kind of threads, from polyester to cotton, can be used. I myself prefer lusterless cotton threads wherever possible because they make the embroidery look more refined. 
Linen is a textured fabric that can be very loosely spun, which leads to the necessity of using a water-soluble film topping. 
This fabric is considered to be one of the easiest to digitize, though I've encountered some designs that would be difficult to be adapted for linen. Nevertheless, the main rules of creating a design are: 
Density should be set at a standard value of 0.4 mm (for the ordinary threads) in almost all the satins and fills. 
Pull compensation should be set at ~0.5 mm in the satins and ~0.3 mm in the fills. 
Underlay: edge run + center run under the satins, full grid at 45° and 135° in relation to the stitch angle in the finishing layer. 
The embroidery should go from the center outward, as usual. 
Of course, these parameters will be changed to suit every particular design. For example, in this modern design with the photo (see above) I didn't use any underlay – neither under the satins nor under the fills. I set stitch density at 0.45 mm in the satins and 1.2 mm was the average density in the fills. A thin #60 polyester thread and #60 needle with a light ball point (SES) were used on a middleweight tear-away stabilizer with a temporary spray adhesive. No water soluble film was applied on top despite the satins being 1.1–1.5 mm thick on the average. The fabric was not distorted and the stitches didn't sink. Thick #30 cotton threads are generally good for the embroidery on linen: you make fewer stitches and the embroidery looks fine. But then again, the choice of threads and digitizing style depends on the design. 
4

5