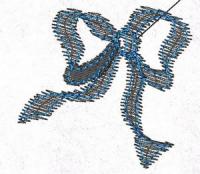 Original text by Marina Belova 
There is a hand embroidery technique called long-and-short stitch, which consists of double or cross back stitch. The point of it is that the threads crossed on the wrong side are visible through a semi-transparent fabric (muslin, batiste or linen) and on the right side only the running stitches can be seen. It is commonly used for the embroidery on table or bed linen, handkerchiefs and, of course, clothing. It should look like the petals in the photo below: 

One day a long time ago I came across a couple of articles describing the way of imitating this technique on the embroidery machine. This method was patented by Suzanne Hinshaw in USA in 2000. Therefore, I don't know if this method can be used for commercial purposes without raising any issues with the author. 
The embroidery technique is the simple stroke of genius: 
Hoop the water-soluble stabilizer. 
Embroider the first part of your design, which will be visible through the fabric. Here the machine stops. 
With the help of temporary spray adhesive or a double-sided adhesive tape place a piece of fabric on top of the embroidery. 
Embroider the second part of the design – the borders and the rest of it. 
Wash away the stabilizer and iron the item. 
The resulting look of the embroidery will be something like this: 

Digitizing long-and-short stitch design: 
First, create the bottom layer of the embroidery. This is a common flat fill of a very low density – 0.8-1 mm, no understitching. 
The digitizing particularity of this layer is that it should go beyond the future border no less than 1 mm. In the picture below the blue line represents the border on the right side of the fabric. Dark gray areas represent the bottom layer that spreads beyond the borders on all sides. 

Create the upper layer – the borders. The upper layer is usually created by the running stitches, double at least. 
Create the rest of the traditional embroidery that will be on the right side. 
This is all, in a nutshell. Nothing difficult. 
General recommendations: 
You can use any semi-transparent or transparent fabric (muslin, batiste, organdy, linen, chiffon, thin silk and so on). 
The color range of both the upper and the lower (shading) layers is unlimited. 
It's better to use soft rayon or cotton and avoid the coarser polyester. 
You can vary the density of the bottom layer in order to regulate the degree of shading. 
If the wrong side is not visible after the embroidery, you may substitute the water-soluble stabilizer for a piece of organza or a net. 
1