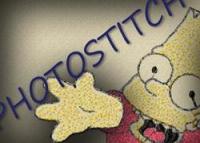 Original text by Lisa Prass 
Photostitch is the technique that helps to create realistic machine embroidery designs. The designs look like photos and are filled with chaotically organized stitches. What do you need for digitizing designs in this technique? Not so much, only the editor, some Photoshop skills and, of course, the desire. 

Photostitch — what do you need? 
Among editors able to create machine embroidery designs, I can name, perhaps, two that will help you with Photostitch: Embird and PE Design.
Both of them allow to automatically create beautiful designs. 
One of them (Embird) generates Sfumato fills, and the other one (PE Design) imitates the free-motion machine embroidery. 
PE Design. Photostitch 
This design creation module offers hardly any customization and image processing options. It is designed for users that know how to work in
Photoshop-like software. If you want to create Photostitch patterns in PE Design, be prepared to study how to work in the aforementioned image editor.
You won't need too much knowledge because a large part of image processing is removing some of the details, lightening and darkening problem image areas, and also removing the background. You may continue studying Photoshop, of course, but for our purpose the knowledge of these basic tools will be sufficient. 
In order to make Photostitch designs that not only look beautiful but can be embroidered as well, you should bear in mind one crucial aspect: when creating Photostitch embroidery designs, don't add too many changes of color. Not only this will result in the time-consuming embroidery process, but in excessive density as well. Try to figure out which colors among the ones you've chosen to turn your ideas into reality may be spared. Be wary about finishing your work on a design after getting the first, not altogether bad, result. Create several designs and compare the stitch count, number of color changes and their look. Find the balance. 
Embird Sfumato 
A full-scale module for creation of Photostitch designs. The name, Sfumato, the manufacturer borrowed from the great Leonardo. There is no discernible connection between these two technologies. This method of making stitches is often vulgarly called "brains" or "worms". 
Unlike PE Design, Embird has plenty of tools, customization options, and an additional image processing module. This software is not the easiest to master, and in order to learn how to create Sfumato embroidery designs, you'll not only need a basic understanding of Photoshop, but also the profound knowledge of histograms, brightness, saturation and so on. 
Despite the difficulties awaiting you on the learning path, you'll quickly grasp the basic rules and working methods. It's a funny thing: despite the software being somewhat difficult to understand, most of its users manage to create beautiful and neatly-looking designs without going deeply into the way it works. 
Taking all the aforesaid into consideration, we may say that you'll need: 
Photoshop user guide 
PE Design software 
Embird software 
The desire to learn all of this. 
FUNDAMENTAL PRINCIPLE: THE BETTER THE SOURCE IMAGE, THE HIGHER THE QUALITY OF MACHINE EMBROIDERY DESIGN. 

P.S. Read how to split a Photostitch machine embroidery design properly. 
1