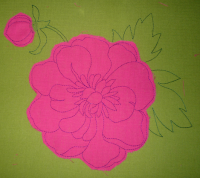 Original text by Marina Belova 
Appliqué in machine embroidery (from Latin word "applicare" – to join, to attach) is a technique that involves cutting out pieces of fabric and attaching them to a background with a thread, using various types of stitches. 
Appliqué is one of oldest decorations that goes back at least 2500 years. Appliqué samples excavated in Egypt are dated by 980 BC. It is commonly believed that this technique came to Europe from Asia via the Silk Road. 
So far I've counted 10 types of appliqué in machine embroidery: 
Patched appliqué. Attaching details consisting of one or several layers onto the fabric using various types of stitches and supplementary materials (cord, ribbon, etc.). This type of appliqué creates the raised effect. 
There are different ways of cutting out a patched appliqué: 
Removing the excess fabric directly in the hoop, by hand or with a laser cutter 
Cutting your future appliqué by a template in advance: 
Depending on the edge, there are several kinds of appliqué: 

Traditional appliqué, where the edge has a border made of various stitches. 

Reverse appliqué One or more layers of appliqué fabric are placed underneath the main fabric that will be used as a background. A design is embroidered and the main (background) fabric is removed layer by layer in specified places. The reverse appliqué remains flat, but creates an illusion of distance. 

The excess fabric is cut directly in the hoop, by hand or with a laser cutter 
3D appliqué is a ready free-standing appliqué that is stitched to the garment in one place and has flaps (petals of a flower, wings of a butterfly and so on). 

Double-sided appliqué – the appliqué fabric is placed on both front and back sides of the main fabric. 
Stained glass/Celtic appliqué – pieces of fabrics are joined butt-to-butt and the joint place is covered with a satin border. You get something resembling a mosaic panel. 
Placing an appliqué under low-density fills 
If you lower the fill density by 30–40%, you can create a shading by placing fabric of a different color underneath. For example, a blue appliqué covered with a yellow fill will result in a green tincture. 
To save on stitch count you can reduce the fill density if you place an appliqué of the same color underneath. 
Padded appliqué uses puffy, polyester batting and other materials of this kind. 
Kiss-cut appliqué. This type of appliqué is based on several layers of fabric of a particular variety (100% Poly Twill or Tackle Twill of different colors). The fabrics are laser-cut by templates. The edges don't need finishing, because they do not fray; all you have to do is to stitch your appliqué to the garment with a border. The advantage of using this kind of fabric is 40% less production time. This method is frequently used for embroidering sportswear. 

Quilt appliqué is a popular technique that involves stitching together pieces of different fabrics to form a pattern. 
Purposes of appliqué in machine embroidery 
Lower the stitch count to fill large areas (more than 10000 stitches per segment). 
To create a decoration using a piece of other fabric. 
Camouflage the defects of the fabric. 
Make the embroidery softer – with an appliqué, your garment will be less coarse than if you cover the same area with the embroidery. 
Choosing a fabric for appliqué 
Heavy fabrics that do not fray, are preferable. 
The appliqué fabric should behave similarly to the main one when pressed and washed. 
It should also have the same level of shrinkage. 
General recommendations on fabrics 
Polyester fabrics are durable and can be washed frequently. 
Fabrics with prints may tarnish and tear after repeated washing. 
Cotton has low shrinkage rate, which is important for the future washing. Cotton is the best fabric for an appliqué. 
Twill is one of the most popular appliqué fabrics in commercial machine embroidery. 
Jersey is a good material, which is often used for sportswear, T-shirts, because it does not fray. 
Felt behaves good, too. But washing and wearing can cause the appearance of pills on the fabric surface. 
Chamois and velvet are used fairly often. They require careful digitizing, embroidery and wear. 
Mylar is a thin transparent film that helps to achieve the shine. It is very popular decorative finish nowadays. 
Tips: All fabrics used in appliqué need decating. If the fabric can be washed, better do so. Fabrics that stretch and fray, if you use them for creating an appliqué, can be fused. 
I'm planning to write a separate article about every type of appliqué. 
Edited by Irina