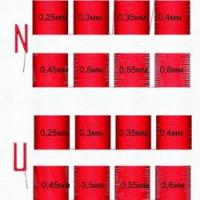 Original text by: Marina Belova 
I think that for an embroiderer it is not a secret that every thread requires its own stitch density in order to make a successful coverage. It involves not only the thread thickness, but also the variety of materials of which the threads are made, as well as different colors and brands.
Changing any of these parameters is the reason why a design once embroidered successfully on the same fabric, but with a different type of thread, may come out a disaster. I've encountered such a problem more that once, that's why it's not the first time when I write about it. 
Recently, when surfing the internet, I found an interesting test design from the Coats brand, which allows to find the proper density for a particular type of thread by conducting a simple experiment. 
The professionals working for this company created a small test design, which will help you to measure the resulting stitch density when embroidering with 120/2 thread (the standard #40). 
You'll need to do just a few things: 
Hoop the fabric. 
Embroider the design with the required types of threads. 
Examine the result. 
Choose a suitable option. 
We can determine if the density is enough or too much by checking with this chart: 

You should notice that the upper segment containing 8 squares is marked by the letter N and does not have any understitching. The lower segment with the letter U has an understitching. You should select one square in each segment, having examined them by look, by touch and other parameters. 
You can download the test in a *.dst format from the Coats website. 
In my opinion, this is a very useful experiment, especially when embroidering with a thread of a brand you haven't tried before. Sometimes you take a spool, and the label mentions only the usual things, or even nothing at all, but you can see that the thread is thicker or thinner that the standard one. And it is not clear what do about it. As it turns out, the answer is always in plain sight. 
1