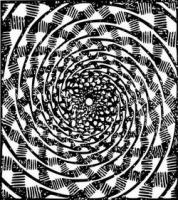 Original text by Marina Belova 
Myth #1 
Machine embroidery is very easy. Just pick up the fabric and threads, hoop, then load the file, press one or two buttons — and that's it. 
It's a common misperception. In reality, a high-quality machine embroidery results from these things: 
Knowledge 
Practice and, consequently, experience and skills 
Attention to details 
Myth #2 
You need to know how to sew in order to embroider, 
In all the years of doing embroidery, I didn't need perfect sewing skills once. Only one sewing skill, in my opinion, will come handy — to add some more fabric, if the piece you have is too small to hoop. And for that, you'll only need to stitch a more or less straight running stitch on your sewing machine. 
Myth #3 
You don't need to test new files, better to save your money and consumables. 
Testing is what allows you to see and correct mistakes in a design, choose your stabilizer, tune up your equipment before starting the embroidery on an item. This is exactly this process that will determine how successful your result is going to be. In order to know more read this article. 
Myth #4 
You can do a test piece on any kind of fabric to save money, with any kind of needle and on any kind of stabilizer — i.e. breaking all machine embroidery rules. 
I fell for this one many times. The special aspects of the embroidery will be different in case you use some other fabric, some other threads, and consumables. On top of that, the design will be created with the special aspects of other materials in mind. And embroidery, in this case, will be full of surprises. 
Myth #5 
Any design could be embroidered on any kind of fabric. 
There are no perfect designs that are good for all fabrics. But the creation of the design is only the small part of achieving a high-quality result in machine embroidery. The main part is technique. 
Myth #6 
If the contours shift during the embroidery, if gaps or other defects are present, this results from having a bad design. 
As they say in the East: you need two hands to make a clap. Mistakes made during the embroidery, as well as the mistakes made during the creation of the design, can be the reason for the defects. Click here to know what is it that causes a particular defect. 
Myth #7 
If during the embroidery the thread and needle break often, if other troubles with the equipment are present, this indicates a bad design. 
Though incorrect digitizing or the use of low-quality consumable materials may be the reason for the defects, the technical condition of your embroidery machine should not be overlooked. More about defects in machine embroidery here. 
Myth #8 
You can substitute specially designed consumables with cheaper materials to save money. For example, use building spunbond instead of a regular stabilizer or plastic bags instead of water-soluble film. Also, replace high-quality threads with the cheaper ones. 
Machine embroidery stabilizers are considered the main part of a successful result. Cheap materials can fail to provide substantial support to the fabric, and this will lead to using a bigger amount of them. You can read about my own attempts to find the substitutes affordable to everyone in the articles: 
The same can be said about the threads. Cheap ones often break during the embroidery, which stretches the production time to the limit. I already wrote how much the thread breaks cost. 
Myth #9 
Try to follow general recommendations of how to choose the right kind of stabilizer for a particular fabric. 
If those recommendations were always relevant, regardless of the fabric type, the design, the machine specs, it would be too easy. For the one giving those recommendations knows nothing about your current situation. Always test everything. 
Myth #10 
The fabric should be stretched drum-tight in the hoop. 
If you stretch the fabric in the hoop too much, then after the embroidery it will try to return to its original shape — that will result in creases, which cannot be removed no matter what. This rule does not apply to those garments that will be worn in a stretched state. Read more on basic rules of hooping. 
Myth #11 
You should tighten the screw after hooping in order to pull the fabric more. 
If you do that, you can damage the fibers. 
Myth #12 
Machine embroidery non-editable files can be scaled by as many percents as you want. 
You can make the designs in the non-editable files 5—10% bigger or smaller, but not beyond that. It is commonly believed that such small scaling percentage won't damage the quality of the design considerably. The one thing would need to be checked: whether the stitches did not become shorter than 1 mm and not longer than 10—12 mm. Marginal length values can cause problems during the embroidery: thread breakage, needle breakage, etc. 
Myth #13 
All threads are interchangeable. 
I came across the fact that the threads were not indeed interchangeable when it became clear to me that it was impossible to substitute #40 rayon with #40 polyester — the result would be unexpected. To say nothing about changing the thread brand without doing some tests first, even if the thread thickness remains the same. Amann #40 rayon thread may be used as an example. It is much thinner than other manufacturer's analogs.
Click here to see how I embroidered the same design with the threads of different brands. 
Myth #14. The most important one, in my opinion. 
You can learn how to embroider, digitize impeccable design by only using recommendations, books, and other educational resources. 
Without endless testing, reworking, without failures that give us food for reflection, theory, and someone's recommendations remain recommendations that allegedly work. Machine embroidery is practice. You should not take anybody's word. But check every little detail yourself instead. Even the words of great authorities on the subject.